Today I decided to do a post on a round up of all of the latest trends surrounding makeup, a lot of these are ones that can be seen all over places like instagram and tumblr! Most of them have been around for quite some time now and are becoming increasing popular.
I have listed some of my favourites and have also included products and tips I would recommend to achieve these looks. At the very end I have included a picture of most of the products mentioned in this blog post.
Also, to lighten things up a little I have also decided to add some memes that are related to these trends that I find funny, just thought I would add this to put a funny twist on things.
I hope you enjoy this post!
An overview of most of the products mentioned




My take on the makeup trends (although minus the matte lip)
1) Winged eyeliner:
Winged liner has been in for quite some time but has recently become increasingly popular over the internet. Often the most desired look is black liner with a sharp liner flicking slightly upwards on either side, and preferably as even as they possibly can be (although we all know the struggle of how hard that really is). There is a variety of different types of liner including gel liner and liquid and which one you chose is often down to personal preference, but my favourite is usually liquid.
Products I recommend:
-
Bourjois Paris
liquid eyeliner 16 hour
- I love this for giving a bold black look and how it last such a long time.
-
Benefit
'they're real'
liner- t I do fin this slightly trickier to use so would not recommend for beginners.
Maybelline
gel liner
is a good option if you would prefer to use a gel.
-
Mac
gel liner is also a very good choice as it has great lasting power and gives a very bold black effect.
Can anyone else relate to these memes?
2) Contouring
Contouring has lately become a massive makeup trend and is all over the internet right now. Most people are after that 'Kardashian contour affect'. It is one of those looks that can take a bit of practise but once you get the hang of it and get your head round it, it is fairly easy to do. Some tips I would recommend doing when contouring is using a light hand and making sure it is completely blended so it looks as natural as possible. It is also important to make sure you chose the right shades so they suit your skin tone nicely.
When contouring, you have to decide whether you want a cream contour or a powder contour, and I would also recommend getting a contour kit so you have a selection of colours and do not need to buy everything individually.
Products I would recommend:
-
Anastasia Beverly Hills contour kit
- cream or powder. Anastasia Beverly Hills is very well known for there amazing contour kits, I have the original one which is the powder kit and love it, although I am also tempted to get the cream as I have heard amazing things about it!
-
Kat Von D shade and light contour kit
- I recently got this product when I went to America and think it is amazing, I love the shades in it and think it does the job perfectly.
-L.A girl pro concealer
- This is great if you are on more of a budget as these products are super cheap! They are both concealers and are liquid. I like to get a light shade to highlight and dark shade (usually in beautiful bronze) for sculpting. Also as these products are mainly sold in America I buy min off Amazon.
Some memes I found funny based on contouring:
3) Over lined nude lips
Since Kylie Jenner started over lining her lips and often whilst support a very nude shade it has become a massive phenomenon. It is also a massive trend to have the lipstick as matte as possible therefore lipstick or liquid lipstick is often a good option.
Tips:
-Do not over line them to much to keep a natural look.
-Try to find a good match for you liner and lipstick.
Products I recommend:
-Mac Velvet Teddy
: This is said to be a product Kyle Jenner uses, and is a really pretty brown-pink toned nude, plus it is extremely matte.
-Mac Brave:
This is still matte and nude but slightly more pinky toned then velvet teddy, thus it depends on your personal preference and what suits you best.
-
Revlon
lipstick in
'naughty nude':
this is a good drugstore alternative, and although it is not an exact match for either of the above mentioned it is still a really nice nude colour, plus with a lovely texture and staying power.
-Mac liner spice or snog-
These go really well with mac Velvet Teddy and Brave and is perfect for slightly over lining your lips.
When you over line your lips and get a little carried away....
4) Highlighting:
Highlighting is a trend I have been loving at the moment, and my collection seems to be speedily increasing, I just cannot get enough! I love the glowy and dewy effect it often gives and think it looks beautiful on anyone.
Tips:
Do not go too overboard as it can sometimes look too shimmery and shiny if too much product is used, I would recommend using a very light hand.
Products I would recommend:
-Becca Highlighter: 'Opal' or 'Champagne Pop'
- Becca has an amazing highlighting range and I would recommend checking them out if you haven't already. The colours are all very pigmented and give off a wonderful glow.
-The Balm 'Mary Lou-Manizer'
- This is a really pretty pearl coloured highlight and is a good one to try when starting off.
-Anastasia Beverly Hills in 'So Hollywood'-
This is quite a light shimmery pearl colour and is lovely for a strong glow.
-Anastasia Beverly Hills highlight kit-
I have not yet tried this, but as you may have seen in one of my previous blog post it is on my wish list! I have heard lots of amazing things about it and love the variety of shades.
-Mac 'Gold deposit':
This is a good shade for those with a darker skin tone and give a gorgeous golden glow.
-Mac 'Global glow':
this is good if you want a more golden glow but have a lighter skin tone, I recently go this and am already in love!
-Nars 'Copacabana':
Nars Copacabana is a liquid highlight and is good to put underneath powder and gives a nice dewy glow.
Getting a new highlight and getting a bit too excited: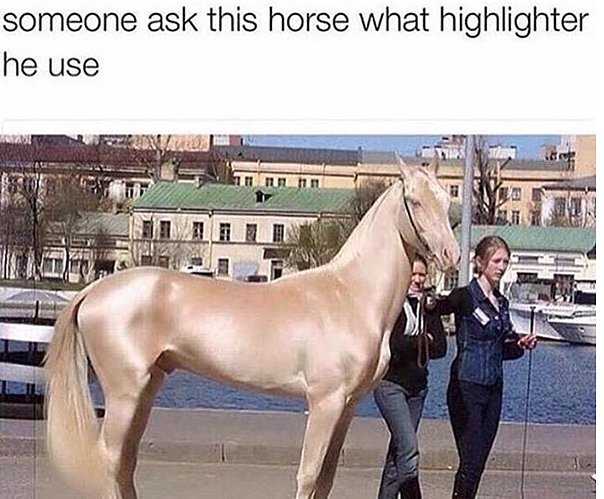 5) Thick brows
'Brows on fleek' has suddenly become a major trend and it is often thick ones that are most desired, this trend has started because of the brow queen Cara Delivigne who has very envious, thick brows. It is also a trend to have to slightly messy and bold.
Tips:
-Try to grow out your brows as much as possible- this may take time but be patient and it will be worth it.
- Try going slightly darker then usually as bold brows are totally in, but make sure it still remains natural.
- Don't make them look to neat, it is on trend to have them slightly rough looking.
Product recommendations:
-Anastasia Beverly Hills
(A.k.A the queen of brow products) 'D
ip brow pomade'
- I have this in the shade 'dark brown' and love it! It is perfect if you don't already have think brows therefore want to fill them in to make them appear fuller but still natural. Plus the product has amazing last power and will not smudge.
-
Anastasia Beverly Hills 'Brow wiz'
- this is better if you are not a fan of using a gel like the pomade and some may find this slightly easier, plus it is good if you are in a hurry.
-Anastasia Beverly Hills 'Brow gel'
- it is said that Cara Delevingne uses this herself and it is great for setting your brows and making them appear a bit more bushy if that is what you want.
-
Soap and Glory 'Brow archery'-
this is a good drugstore dupe, it is one I have been loving recently and use a lot. It come with two sides- a felt tip like side to shape and a pencil side to make your brows look fuller and keep them lasting all day.
-Benefit 'Browzings'
- this is a brow gel and powder compact and I have recently been loving the full brow effect it gives, I use the gel first to shape my brows and then the powder to set them in place so they last all day.
Brow goals or what?
Cara Delevinge (Queen of brows)
The struggle!
Too true, ahaha!




Some of the products mentioned in this post:
Thank you for reading this post, I really hope you enjoyed. Do let me know what you think in the comments and whether you would like to see something similar in the future. Also I would love to know what your favourite trends have been and any tips you have.
Make sure to share this post with your friends if you enjoyed and follow for more!