Today I have decided write a post on celebrity makeup looks that I have been inspired by and have decided to share with you so you can feel inspired too! I have also included some pictures of products that I would use when recreating this look. However, these products are not the same as the ones on the celebrities and it may not turn out to be identical, but this is what I would personally chose when creating a similar inspired look. I hope you enjoy!
1) Gigi Hadid:
I have recently been obsessing over Gigi Hadid and think she always looks beautiful wherever she goes! There have been many makeup looks that I have loved from her, however, there is one that I personally believe to be above them all. This is her bronze goddess look at the 2015 MTV VMA's, I especially love this looks because of the bronze glow that she has going on and this is something that I have been obsessed with recently. I think the shimmery, gold/orange told highlight compliments the whole look extremely well, and her hair style is perfect as it sets everything off, and keeps the focus on the makeup. You can tell she has used a lot of bronzer and highlight, which are two products that I l love and never go without.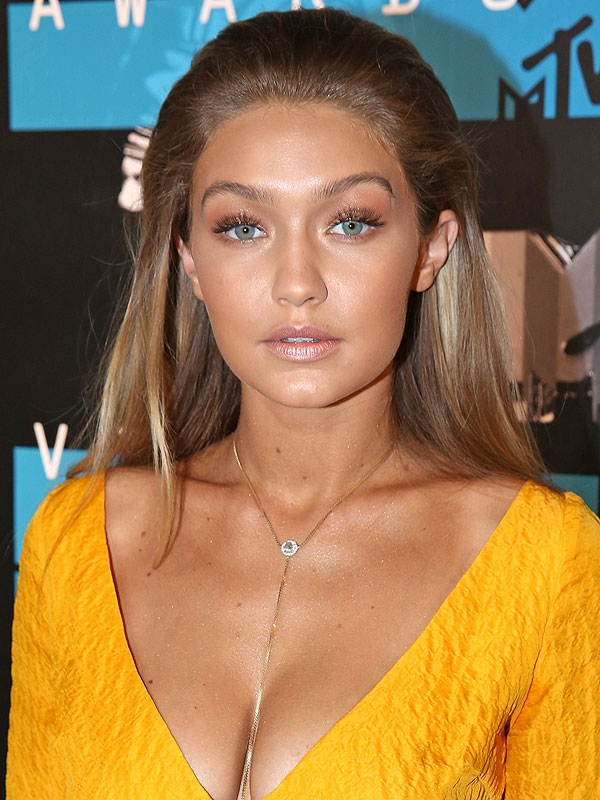 Gigi Hadid at the 2015 MTV VMA's
In the pictures are above are some of the products I would suggest to recreate the look. These products are:
1)
Hourglass
'Ambient Lightning Palette': this is great for giving that glowy illuminated effect and also is perfect when taking pictures!
2)
Charlotte Tilbury
'Wonder Glow' : I either use this underneath my foundation as a primer or mix it into the foundation. I love it as it gives a nice glow and think it will work well when recreating this look.
3)
Becca
highlighting powder in 'opal': I love this as it is super shimmery and pigmented and does an amazing job of highlighting. I apply this on the top of my cheekbones and on my T zone: my forehead, nose and chin.
4)
Becca
'shimmering skin perfecter' : I think this product is perfect for this look as it gives off the bronze glow that Gigi has.
5)
Charlotte Tilbury
: 'Fimlstar Bronze and glow palette': again this is perfect for this look as you have the gorgeous highlight as well as the shimmery bronzer, I have been loving using this palette recently to get the bronzed and glowy affect.
6)
Sephora
eyeshadow 'Sunday Brunch no81': this is a shimmery gold eyeshadow and it may be slightly darker than the one Gigi has on but I still think it would look great with this look.
7)
Estee Lauder
'Bronze Goddess': this is an alternative bronzer that I love to use, I tend to mostly put it all over my face, mainly around my cheeks and the sides of my forehead. I love the natural looking bronze effect it gives.
When recreating this look I would also:
- Use a glittery, champagne colour eyeshadow with false lashes.
- Use a light nude lip colour.
- Subtly fill in your brows, giving them that more rough look rather than extremely tidy and groomed.
2) Selena Gomez
I have been a fan of Selena Gomez for a long time and particularly love her style, makeup looks and hairstyles. There has recently been one makeup look that personally stood out to me which is, here makeup at the 2015 AMA's. I loved the bold and daring red eye look and think she pulled it off extremely well. She also had quite strong black eye liner as well as full lashes. The shadow was also slightly winged which I think gave off a very nice effect. As the eyes were quite dramatic she kept the rest of her face very simple and natural including a light pink nude lip.
Selena Gomez at 2015 AMA's
Again, I have included some products above that I would recommended using to recreating this look. These are:
1)
Eyelure
false lashes 'Dramatic No 205': Selena Gomez has very dramatic lashes in this look which is why I think these falsies will work well.
3)
Makeup forever
eye shadow: Selena Gomez has a very bold red coloured eyeshadow, this colour is more of a orange tone, but I decided to include it for variation and for those that may not want to wear red, I personally love using this colour and feel it makes my eyes pop!
4)
Kat Von D
eyeshadow in 'Raw Power': This colour is fairly similar to Selena's as it is more red toned, this is the most similar of the three that I have mentioned.
5)
MAC
eyeshadow in 'Expensive Pink': This colour is a little more subtle then the others thus is one I would recommended if you just want to experiment with the look but not go quite as bold.
6)
L'oreal
lipstick in 'Eva's nude': This lipstick is a nice natural pinky shade, it most likely is slightly darker than the one Selena has on, but I still think it would compliment the look well.
7)
Benefit
'they're real push up eyeliner': I love this eyeliner as it gives off a very dramatic black effect, similar to the look Selena has.
8)
Beneefit
'browzings' : This compact comes with a gel and a powder: I use the gel first to shape and then the powder to set and make it look slightly bolder, I would recommend using this with a light hand and brushing the brows through afterwards.
3)Kendal Jenner
Kendal Jenner often tends to keep her makeup fairly natural looking, especially on her face. One look that I particularly like of hers is the red lip at the 2015 Amfar Gala. I would say that the red lip was the statement as her face was fairly simple, looking flawless as ever with some light contouring and her eyes were very natural. I also loved her bold and rather quite straight brows in this look. I also think that her red dress looked perfect with her red lips and her hair looked amazing having it straight and sleek away from her face.
Kendal Jenner at the 2015 Amfar Gala
Some products I would use to recreate this look, as shown above are:
1)
Makeup Forever
HD foundation: I love this foundation as it gives a very flawless finish and also looks amazing in pictures! The brand 'Makeup Forever' has only fairly recently come to England and you can purchase it online or at Debenhams Oxford Street, London. However, it you are looking for a slightly cheaper alternative, I would highly recommend L'oreal 'True Match' foundation which I also love!
2)
Estee Lauder
Kendal Jenner lipstick envy in 'Restless'. I think this is the exact lipstick she wore in this photo, however I may be wrong so do not quote me on that! This lipstick is very bright and matte which I love. If you would like more detail on it, you can go to my 'Top 10 lipsticks' as it is featured in there.
3)
Anastasia Beverly Hills
liquid lipstick in 'Bloodline' I love this lipstick as it is very bold and long wearing, plus once it is on your lips it does not smudge at all! It is also very matte, which I think is necessary when recreating this look.
4)
MAC
lipstick in 'MAC red': this lipstick is quite a bit darker than the one featured, I thought I would include it to give an alternative to people that may not want such a bright lip, however it is still a matte lip, which I believe to be important and it will last a long time.
5)
MAC
lip liner in 'Ruby Woo': I think that it is necessary to have a lip liner when wearing a red lip as it can be extremely hard to put on, also in the picture of Kendal Jenner, she has slightly over lined her lips.
6)
Soap and Glory
brow 'archery' brow tint and precision shaping pencil in 'Brownie points': I love this product for filling in my eyebrows, it is most likely one of my favourites, plus it is not too expensive which is a bonus. It has two ends: one which is like a waxy pencil and one which is like a felt tip, I like to use the felt tip first to shape my brows and then the pencil to thicken my brows slightly. Kendal Jenner's brows are very straight and bold in this look which is why I think this will work well.
7)
Benefit
'Hoola' bronzer: Kendal Jenner has a slightly contoured appearance, and seems to have bronzer under her cheekbones. However, this is very natural and matte which is why I think Hoola would be a good option.
Those are some of my favourite celebrity makeup looks that I have been loving recently. I would love to hear what you think and celebrity looks that you have also been loving too. I may do a tutorial on how I would properly recreate these looks, including hair and makeup from start to finish, if that is something you would be interested in let me know in the comments and follow to keep up to date!
Thank you for reading, I hope you enjoyed this post!